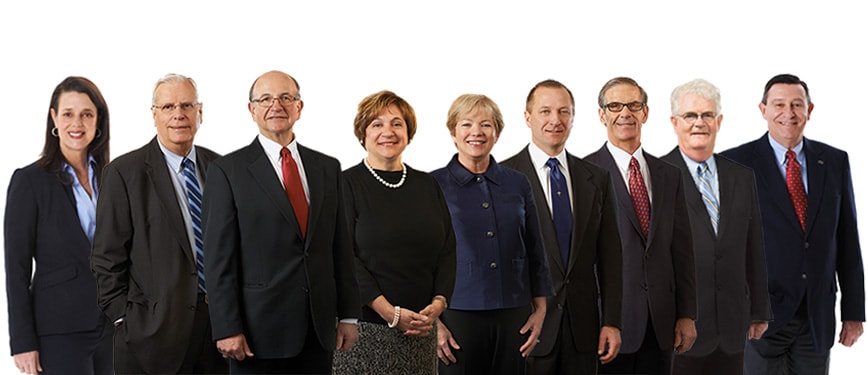 Moses Taylor Foundation board members reflect on their time on the board and its significance in addressing community needs by continuing its founder's legacy and vision.
What are you most proud of in your work with the Foundation?
Founding Chair Doug Allen, who served on both the original hospital board and the Moses Taylor Foundation board, cites the organization's work in helping the underserved as exemplifying Moses Taylor's legacy. In particular, Allen recognizes the privilege of caring for the those less fortunate, and strengthening community health.
Another founding member, Hon. Robert A. Mazzoni, lauds the impact of the Foundation's work in improving health outcomes, a key tenet of the founder's purpose.
Treasurer Kimberly Santarsiero, a six-year Board member, was drawn to the Foundation because its mission aligns with hers. As a lifetime area resident, Santarsiero is keen on making "our community a better place to live in for everybody."
Another six-year Board member, current Chair William R. Lazor, cites support for the Scranton Counseling Center and the Honesdale Women's Health Center as two projects deserving special recognition. With the Foundation's help, both organizations were able to upgrade their physical space to increase capacity to better support patients.
Providing grants to smaller area colleges is a source of pride for Santarsiero. Keeping the funding local – allowing area students to learn, graduate, find employment and raise families in or near their hometown – means the support is making a difference within the community. In addition, the Foundation's support for expanding college and university health care curriculum helps improve the overall health of the community, notes Mazzoni.
What, in particular, do you want people to know about the Foundation?
The Foundation doesn't wait for requests to come to them. Being proactive extends the Foundation's work beyond responding to obvious needs, notes Board member Peter Moylan. "We've gone out and identified…some critical needs that exist," he says, highlighting the work being done in school healthcare and isolation of older adults. "I've also learned how important it is that we collaborate with other providers and how much greater an impact we can have when we do that."
Service on the Board has exposed members to human service and non-profit agencies they were previously unaware of, as well as some of the community's untapped needs. For example, as a judge, Mazzoni sees a wide cross-section of the population. However, his involvement on the board exposes him to the many organizations dedicated to helping the most at-risk in the community.
Going forward, what do you feel strongly about?

Beyond addressing current healthcare needs, going forward, the Foundation has an opportunity to examine "the social determinants of health," including housing, education and transportation, according to Secretary Mary Sewatsky, M.D. She is excited about the potential for working with other foundations in the area to create the greatest overall impact.
Santarsiero also pointed to mental health as a focus for the next 10 years. "I think that we're really going to be able to make a dent in our community of a problem that's so large nationwide," she explains.
Collaboration is also critical for Vice Chair Maria Marsili. "Advancing the legacy of health is our ability to get out there in the community, to network, to collaborate, and to get a delivery system which will reach the population we need to reach," she says. That includes capacity building, educational opportunities and providing resources to facilitate access to the services they need.
Watch the Board's Reflection Video
William R. Lazor, CPA/PFS, CFE | Chair
Maria Marsili, Esq. | Vice Chair
Kimberly Santarsiero | Treasurer
Mary F. Sewatsky, M.D. | Secretary
Douglas G. Allen | Founding Chair
Edward J. Dzielak, D.O.
Frank R. Kolucki, Jr. M.D.
Judge Robert A. Mazzoni
Peter F. Moylan